UMSL celebrating 2020 and 2021 graduates with six in-person commencement ceremonies this weekend
The University of Missouri–St. Louis will confer nearly 1,000 degrees this weekend as it holds its first in-person commencement ceremonies in two years.
UMSL has invited students who earned their degrees in 2020 and the spring and summer of 2021 to come back to participate in the in-person festivities – something they didn't have the opportunity to do the past two years because of the COVID-19 pandemic.
"For some of you, those who are preparing for commencement and whatever comes next, this is a true turning point – a moment in time to celebrate, breathe deeply and feel both pride and excitement," Chancellor Kristin Sobolik wrote in a letter to students last week. "I hope you'll stop and take it all in. You've earned it. In fact, considering how unique and trying recent times have been, I'd say you've more than earned it, and I want you to know how proud and impressed I am with your fortitude. Please know that all that you have accomplished is no small thing. You have done something extraordinary during extraordinary times."
Commencement weekend will feature six ceremonies – three Saturday and three Sunday – at the Mark Twain Athletic Center.
UMSL will begin honoring its graduates with two ceremonies for the College of Arts and Sciences.
The first ceremony at 8:30 a.m. Saturday will celebrate graduates of arts, humanities, mathematics and sciences. Toni Douaihy, the vice president and assistant general counsel at Macy's Inc., will deliver the address.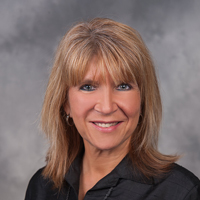 Douaihy, who graduated from UMSL with a BA in history and a BA in Spanish in 1991, began her career as an attorney with the Office of Legal Counsel for The May Department Stores Company after earning her law degree from Washington University in St. Louis in 1994. Initially, her law practice included the areas of employment, operations, real estate, corporate and litigation. After the merger of The May Department Stores Company into Macy's in 2005, Douaihy became a member of Macy's Law Department, and she was promoted to vice president and assistant general counsel in 2009. She is responsible for managing the company's employment and benefits law functions, which span the enterprise in the continental U.S., Puerto Rico, Guam and overseas. Douaihy has served as a member of the UMSL Alumni Association Governing Board of Directors since 2018 and is currently the president. She also is a past president and current member of the Board of Directors for the St. Louis chapter of the Association of Corporate Counsel and a member of the St. Louis Forum, which brings together female executives and professionals who have distinguished themselves through significant achievements in their chosen fields.
The second ceremony at 1 p.m. will recognize graduates in social sciences, general studies, interdisciplinary studies and liberal studies. Marcela Manjarrez Hawn, senior vice president and chief communications officer at Centene Corporation, will deliver the address.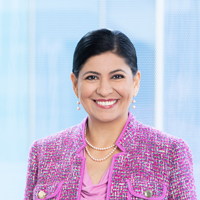 Hawn oversees all strategic communications, media and public relations for the company and acts as its main media spokesperson. She also manages the Centene Charitable Foundation. Prior to joining Centene, she served as vice president, public affairs for the Federal Reserve Bank of St. Louis. Hawn earned a bachelor's degree in economics from UMSL and a master's degree in economics from Washington University. She serves on the boards or as an advisory board member for many local and national organizations. She has also been recognized by the St. Louis Business Journal as one of the Most Influential Business Women and as a Diverse Business Leader. Latino Leaders magazine recognized her as one of the Top Latino Executives in Corporate America, one of the Top Latinos in C-Suite and one of the Top Latinos in Corporate America.
Saturday's final ceremony at 6 p.m. will honor graduates of the College of Nursing, School of Social Work and the UMSL/Washington University Joint Undergraduate Engineering Program. Missouri State Senator Brian Williams will deliver the address.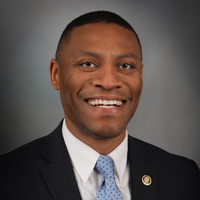 Williams was elected to the Missouri Senate in 2018 and represents the 14th Senatorial District in St. Louis County. He grew up in Ferguson, Missouri, and is the first black male to serve in the Missouri Senate in two decades. Studying government and public health policy led Williams to pursue a career in public service. After graduating with a bachelor's degree from Southeast Missouri State University and a master's degree in public administration and legal studies from Washington University, he went on to work for several years in the U.S. Congress as a congressional staffer. He oversaw the rollout of the Affordable Care Act Marketplace in Missouri as a congressional ACA coordinator. Williams serves on the board of directors and advisory boards of numerous local institutions. He is also a proud member of Kappa Alpha Psi Fraternity, Inc.
Sunday will feature two ceremonies to recognize graduates of the College of Business Administration. The first ceremony, at 8:30 a.m., will celebrate undergraduates, and Akeem Shannon, the founder and CEO of Flipstik, will deliver the address.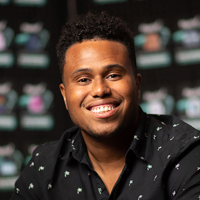 Shannon, a native St. Louisan, became a top salesperson at several Fortune 500 companies after losing his academic scholarship at Howard University and returning home. He'd saved up nearly $100,000 in five years since leaving school but decided to quit his job in the fall of 2017 to follow his entrepreneurial dream. That led to the creation and development of Flipstik, an accessory that attaches to the back of a cell phone and allows it to stick to nearly any flat surface, enabling the user to watch or capture content hands-free. Shannon appeared on ABC's Shark Tank and was a member of the first cohort of UMSL Accelerate's Diversity, Equity and Inclusion Accelerator, receiving a $50,000 nondilutive capital injection and business training that will help him make Flipstik available in major retailers starting in 2022.
The second ceremony, at 1 p.m. will honor master's and doctoral graduates of the College of Business Administration. Opal Jones, the president and chief executive officer of DOORWAYS, will deliver the address.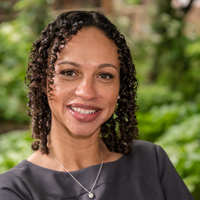 Jones has served on several state and local advisory committees including the Missouri Housing Trust Fund and the St. Louis Regional Health Commission since joining DOORWAYS, an interfaith non-profit organization in St. Louis that provides housing and related supportive services to people living with HIV/AIDS. She also is the immediate past president of the National AIDS Housing Coalition in Washington, D.C. Jones is a two-time graduate of UMSL, earning a bachelor of science in business administration in management and organizational behavior in 2000 and an MBA in 2017. She received the university's Distinguished Alumni Award in 2013 and has been honored with C-Suite, 40 Under 40 and Diverse Business Leaders awards from the St. Louis Business Journal. She also received the Spirit of Justice Award from the St. Louis Bar Association.
The final ceremony of the weekend will begin at 6 p.m. and will recognize graduates of the College of Education. Brittany Hogan, manager for the Center of Human Service Leadership at Delmar DivINe, will deliver the address.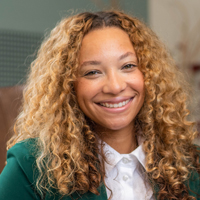 Hogan, a native of Chicago, is an award-winning educator with a bachelor's degree in psychology from Hampton University and a Master of Social Work from Washington University. In her current role, Hogan helps to create a vibrant, innovative, collaborative community that enhances the value of co-location to tenants and the larger community. She previously served as the director of educational equity and diversity for the Rockwood School District. In that role, she directed the Voluntary Interdistrict Choice Corporation Program, managed the district social workers and social-emotional behavioral specialists and created the district's equity plan, "The Beloved Community." Hogan developed and supported the district and school-based initiatives for both staff and students around educational equity, inclusion and social justice.
All graduates and their guests are expected to wear masks while attending this weekend's commencement ceremonies at the Mark Twain Athletic Center.
Fall 2021 Commencement Schedule
Saturday, December 18, 2021:
8:30 a.m. – College of Arts and Sciences I – Arts, Humanities, Mathematics and Sciences
1 p.m. – College of Arts and Sciences II – BGS, BIS, BLS and Social Sciences
6 p.m. – College of Nursing, School of Social Work, Joint Undergraduate Engineering Program
Sunday, December 19, 2021:
8:30 a.m. – College of Business I – Undergraduate Degrees
1 p.m. – College of Business II – Advanced Degrees (Master's and Doctoral)
6 p.m. – College of Education

Short URL: https://blogs.umsl.edu/news/?p=91693