Media Coverage: October 2022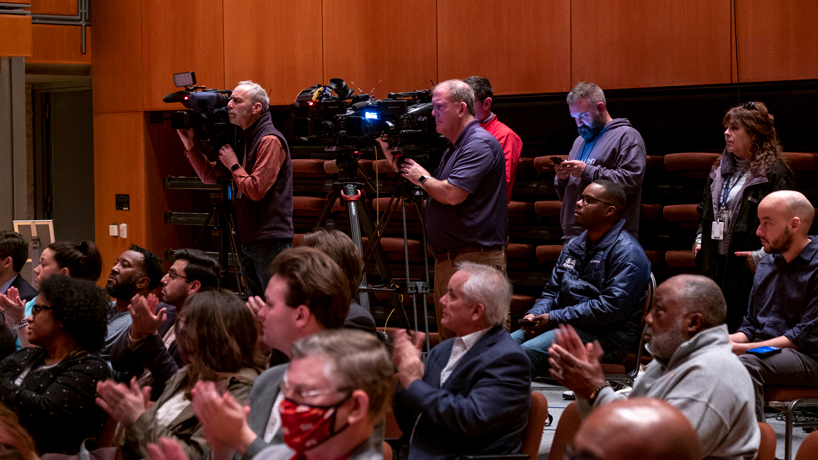 The University of Missouri–St. Louis makes a significant impact on the St. Louis area. Stories about the university, its scholars and their expertise are often covered by local and national news media.
Media Coverage highlights some of the top stories but does not serve as a comprehensive listing. Notice a clip we missed? Email us at umsldaily@umsl.edu.
Featured stories:
The New York Times, The National Herald and The Greek Current Podcast featured Michael Cosmopoulos, a member of the American Academy of Arts and Sciences and a professor of Greek Archaeology, who has been conducting an archaeological survey with colleagues and students through the rugged and hilly terrain of Messenia, a region along Greece's southwest coast. In particular, the survey team was interested in an olive grove near the quaint mountain village of Iklaina, where in the 1950s the Greek archaeologist Spyridon Marinatos had found a site that contained an exceptional amount of Bronze Age pottery.
The St. Louis American and KSDK spoke with Maria Ellis, a music education alumna and the community engagement manager for The St. Louis Children's Choirs, about her long history with choir and classical music and her more recent experiences with opera ahead of her Carnegie Hall debut next summer. She will conduct works by St. Louis native Robert Ray at the famed venue on June 25.
Wired interviewed a team of researchers from six St. Louis institutions studying pollination in urban and suburban orchards, including Aimee Dunlap, an associate professor of biology. Working in over 250 community gardens, they're tallying bee species and monitoring their behavior. They're also checking out how plants respond to healthy populations of pollinators, particularly the native types.
Media coverage:
Anne Austin, assistant professor of anthropology
The Source: WashU hosts the Fourth Annual Missouri Egyptological Symposium
Kurt Baldwin, professor of cello
The Common Reader: The Cello
Annah Bender, assistant professor of social work
Columbia Missourian: The homeless dilemma: Researchers work to untangle the complicated situation
Gary Bokermann Jr., business alumnus
Webster-Kirkwood Times: Incumbent Phifer Faces Opposition For District 90 House Seat
Emily Donaldson, business alumna
St. Louis Business Journal: People on the Move: Emily Donaldson, Surveillance Compliance Analyst at RFG Advisory
Mark Dorsey, former Tritons soccer player
St. Louis Post-Dispatch: Where will St. Louis City soccer games end up on radio? They won't be on KTRS
Dr. Keshia Elder, dean of the College of Optometry
Optometry Times: AAOpt 2022: DEI foundations in the optometric practice
Timothy Green, business alumnus
Construction Forum STL: Timothy Green Named Executive Vice President of the Electrical Connection
RE Journals: Electrical industry veteran named EVP of St. Louis' Electrical Connection
Steve Hamilton, business alumnus
Monitor Daily: Hamilton Receives Distinguished Alumni Award at UMSL
Reneé Hardin-Tammons, criminology and criminal justice alumna
St. Louis Record: Hardin-Tammons' Court of Appeals appointment creates St. Louis County circuit court vacancy
Beth Huebner,​ professor of criminology and criminal justice
St. Louis Post-Dispatch: St. Louis County Jail working to prevent people from coming back
Dru Johnson, psychology and philosophy alumnus
Royal News: Judaic Studies Fall Lecture set for Oct. 27
Adella D. Jones, chief of staff
St. Louis Post-Dispatch: P-D's Kevin Johnson dubbed 'living legend' by journalists' group
David Kimball, professor of political science
Berkeleyside: How ranked-choice voting works in Berkeley elections
The Oakland Side: How ranked-choice voting works in Oakland elections
Dan Lauer, founding executive director UMSL Accelerate
St. Louis Magazine: 100+ people shaping St. Louis
Cameron Marino, business alumnus
St. Louis Business Journal: Cameron Marino | People on the Move
Justin Marty, accounting alumnus
St. Louis Business Journal: Anders CPAs + Advisors names 6 who will become partners in 2023
Donald Morrison, history alumnus
citybiz: Sustainable Composites Appoints Donald G. Morrison as CEO
Christian Okeke, music student
The Common Reader: The Cello
George Paz, business alumnus
Prudential: Prudential remembers George Paz, a Board of Directors member
St. Louis Business Journal: George Paz, former CEO of Express Scripts and civic leader, dead at 67
St. Louis Post-Dispatch: George Paz, who grew Express Scripts into a pharmacy giant, dies at 67
Gualtiero Piccinini, Curators' Professor and Director of Graduate Studies
Inverse: The Wildest Sci-Fi movie on Netflix reveals a way to hack your brain
David Rolfe, business alumnus
24/7 Wall St.: These Are the Top 10 Holdings of David Rolfe
Richard Rosenfeld, Curators' Distinguished Professor Emeritus of Criminology and Criminal Justice
The Atlantic: What's Really Going on With the Crime Rate?
The Charlotte Observer: Suspended after racist comments, NC sheriff sticks with re-election campaigning
CNN: The FBI released its crime report for 2021 – but it tells us less about the overall state of crime in the US than ever
The Crime Report: Was Crime Up or Down in 2021? Why the FBI Can't Tell Us
Daily Mail: What have you got to hide? LA and NYC REFUSE to hand over crime stats to FBI for national figures as murder rises by 4.3% and rape by 3.9% across the country
FISM TV: St. Louis police resignations reaching 'critical mass'
KSDK: Byers' Beat: Does St. Louis have enough police officers? It depends who you ask
Springfield News-Leader: Overall crime is down in Springfield but rising shootings are 'our No. 1 problem'
USA Today: FBI releases 2021 crime data, but it lacks information from major police agencies
Amanda Schwane, accounting alumna
St. Louis Post-Dispatch: KAI Enterprises, The UP Companies Promote Shawn Lewinski, CPA to Chief Financial Officer and Amanda Schwane, MSA to Vice President of Finance & Controller
Sofi Seck, business alumna
St. Louis Post-Dispatch: Made in St. Louis: She designs baskets; you may have seen her on 'Shark Tank'
Renelle Spinks, former academic coach and peer mentor group coordinator
Maryville Press: Maryville Announces New Diversity and Inclusion Leadership
Steve Stancic, education alumnus
Print + Promo: Executive Perspectives: Steve Stancic of Specialty Mailing
Ann Steffen, professor of clinical psychology and gerontology
KMOX: People with positive views of aging, have better health behavior and live longer
Chris Sullivan, E. Desmond Lee Professor of Youth Crime and Violence and chair of the Department of Criminology and Criminal Justice
KSDK: Gun violence is claiming the lives of St. Louis children. Here's a look at why kids are getting shot
Linda Wells-Glover, teaching professor of social work
St. Louis American: Substance and Style
Marina Villoch, biochemistry and biotechnology alumna
Mote Magazine: Mote intern turned lab manager shares coral science on Yahoo
Ken Waller, public administration alumnus
Leader Publications: Voters Guide: Waller, Shepherd square off for vacant seat in District 114
Luigi Wewege, finance and international business alumnus
Finextra: 7 Considerations When Investing in Precious Metals Offshore
Rodney Wilson, history alumnus
Laredo Morning Times: LGBTQ+ History Month founder coming to Laredo for kickoff event
George Zsidisin, John W. Barriger III Professor and Director of the Supply Chain Risk and Resilience Research Institute
KSDK: 2022 Missouri general election: Voter guide for St. Louis area
Other news:
4StateNews: Webb City, Lamar residents receive state Good Neighbor Week recognition
Center for American Progress: Progressive Prosecutors Are Not Tied to the Rise in Violent Crime
Construction Forum STL: Perspective: Can We Get It Right This Time?
Construction Forum STL: Kwame Foundation Golf Tournament Awards $75,000 in Scholarships for First-Generation, College-Bound Students
Daily Journal Online: Museum Learning Center celebrates National Fossil Day and more
Fox 4 KC: 14 Missouri schools land on best colleges and universities list
Illinois Business Journal: UMSL honors SIUE's Hall as Outstanding Young Alumni, celebrates 6 others
Jefferson City News Tribune: State rolls out training video amid effort to address veteran suicide rate
KSDK: Cori Bush autobiography shares her 'pain, perseverance'
KSDK: UMSL program is offering $50K grants to underrepresented entrepreneurs
KSDK: You don't need an excuse to vote early in Missouri, here's where you can cast your ballot now
KTVI: What are you doing about it? Reentry St. Louis, UMSL Accelerate, Dr. MLK Jr. celebration
KTVI: What Are You Doing About It? Walk to End Colon Cancer, UMSL 5K Run / Walk, Pumpkin Crawl
KTVI: Where you can vote for the 2022 midterm elections today in the St. Louis area
The Labor Tribune: New election law offers Missourians no-excuse, early voting beginning Oct. 25
Ladue News: Kranzberg Arts Foundation's mural project in St. Louis features both locally and nationally acclaimed artists
Mother Jones: Blaming Larry Krasner for Gun Violence Does Not Make Statistical Sense
Newswise: Taylor Geospatial Institute Receives $1 Million NSF Grant to Create Regional AI Learning System
Riverfront Times: The Best Things To Do in St. Louis During the Weekend, October 6 to October 9
Riverfront Times: A St. Louis County Mayor Went Big for Bitcoin, Now He's Fighting to Stay in Office
The Source: Chakaia Booker's 'Shaved Portions'
The Source: 'Embracing Our Diversity Through Languages' Oct. 7 and 8
The St. Louis American: UMSL with sixth Higher Education Excellence in Diversity Award
The St. Louis American: UMSL welcomes cohort of students from The Bahamas
The St. Louis American: Cori Bush autobiography shares her 'pain, perseverance'
The St. Louis American: BJC, Compass partner with UMSL to address social worker shortage
St. Louis Business Journal: The bases are loaded in St. Louis. This time, let's make the most of it
St. Louis Business Journal: Fastest of the Fast: Here's a look at the top 10 fastest-growing private companies in St. Louis for 2022
St. Louis Business Journal: UMSL workforce program aimed at serving more behavioral health patients
St. Louis Jewish Light: Network STL works to bring Jewish college students together at local universities without large Jewish populations
St. Louis Magazine: Read This Now: The Forerunner
St. Louis Magazine: Where to go stargazing around St. Louis
St. Louis Post-Dispatch: Mark Mantovani could be playing golf. Here's why he's running against Sam Page instead.
St. Louis Post-Dispatch: The audience will become part of the story at the St. Louis Storytelling Festival
St. Louis Post-Dispatch: 16 more projects recommended for pandemic cash in St. Louis County
St. Louis Post-Dispatch: The Mighty Pines checks curating an event off its bucket list with Pines Fest
St. Louis Post-Dispatch: Missouri's new no-excuse absentee voting begins Tuesday for Nov. 8 election
St. Louis Post-Dispatch: After dysfunction, St. Louis County Council agrees on 7 projects for pandemic cash
St. Louis Post-Dispatch: Business Bulletin Board: Openings include A Little Hi, Unleashed Fitness, Urology of St. Louis
St. Louis Public Radio: Missouri, Illinois geospatial researchers to work together on supercomputer
St. Louis Public Radio: As no-excuse absentee balloting starts, St. Louis County sees less early voting
St. Louis Public Radio: St. Louis Voter Guide: What to know about the 2022 midterm elections
Washington Magazine: Supporting victims of trauma, disrupting the cycle of violence

Short URL: https://blogs.umsl.edu/news/?p=95625