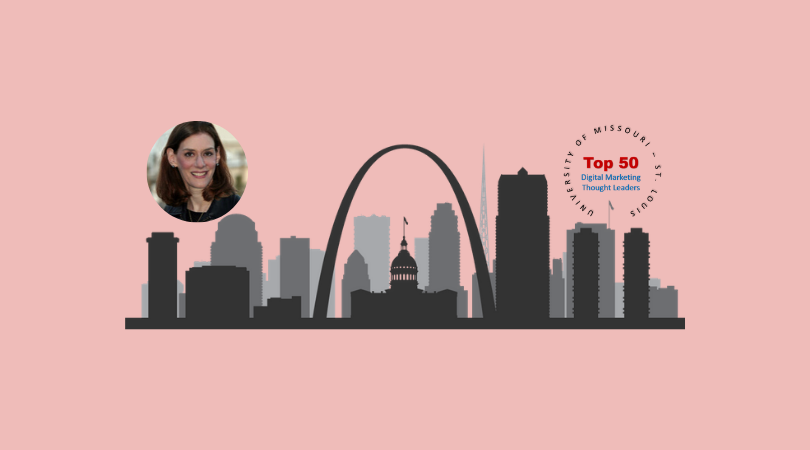 February's Thought Leaders Award
By Katelyn Gierer
Have you ever wondered who is leading the way in digital marketing? We are going out and finding the best-of-the-best all around the nation to give them the Top 50 Digital Marketing Thought Leaders award.
With the help of our Marketing Advisory Board, featuring executives from Purina, FleishmanHillard, Edward Jones and more, we are able to bring you this top list of executives.
We are excited to announce that February's Thought Leaders award is going to Heidi Cohen! Cohen is the Chief Content Officer at Actionable Marketing Guide, the president of Riverside Marketing Strategies, and an expert in digital marketing. With extensive knowledge of integrated marketing, of course she was our top pick for the award.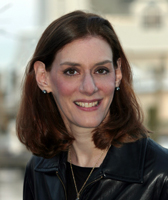 What is your college degree and major and why did you take the college path that you did?
I studied at McGill University in Montreal, Quebec, The University of Paris in Paris, France and the University of Chicago, Illinois. I received my BA with honors from the University of Chicago. In addition to their Common Core, I majored in Political Science.
In terms of my career, I studied Survey Research at the University of Chicago's National Opinion Research Center (or NORC). Also, I was a member of the staff of a University of Chicago's feminist literary magazine.
How did you get into marketing as a career or realize this was your passion?
After realizing I needed a graduate business degree to advance my career, I applied to Stern's Graduate School of Business to study finance. Since I had to finance my entire graduate  education, this was a major decision.
But, during my second semester, I realized that I loved marketing. Like political science, marketing focuses on fulfilling customer needs through the use of a variety of tools and skills.
The world of marketing and communications is being disrupted and changing almost daily. What is the next big shift in the world of marketing and communications that you see occurring within the next year?
The Seismic Marketing Shift is the next major disruption. Running on AI, most marketers and business executives can't see yet see the seeds of its existence. This is attributable to the exponential rate of this technology-driven change.
Further, it's difficult to assess AI-powered results until they're more than 95+% successful. For example, people can't understand voice-enabled devices until their speech recognition is close to 99% accurate.
As of this major change, marketers will be able to respond in real time and tailor their response to provide contextually relevant answers. (Note: These trends are part of my 20 Marketing Predictions for 2020.)
At the heart of the Seismic Shift in Marketing are voice-enabled devices (the next major generation of technology), small data and content saturation.
Click here to read more about the three key elements of the Seismic Marketing Shift by Heidi Cohen.
What is your one most favorite website/blog/newsletter that helps you stay current in the world of marketing?
When it comes to keeping up with marketing and other world changes, you need multiple sources of trustworthy content.
My favorite reads include:
Can you pay it forward… and give one piece of advice to a new student looking to go into the field of marketing?
My advice to marketers is to build your core skills and experience:
Write well and clearly including longer content and written communications. For help, read Ann Handley's Everybody Writes!
Be able to present in public. In addition to studying TedTalks, use every opportunity to practice talking in front of groups.
Know the basics of arithmetic as well as the fundamentals of computer science. In addition to balancing your bank account and personal budget, know how to run the programs you need to get information and perform basic data analysis.
Remember your manners. Dress appropriately for the occasion and be polite regardless of whom you're interacting with. This makes a big difference in how people respond to you.
Get experience. Don't wait for the perfect job since it may not magically materialize. Take the job you're offered and figure out how to get the most out of what it offers you.
Continue to expand your knowledge. Even after you get your degree and job, don't slam the brakes on your learning. There has never been a better time to get education so cheaply. (It's the degree that costs money.)
And, for LONG TERM CAREER SUCCESS, I recommend:
Continue to build your network and to keep your network alive. Regularly reach out to people. Don't wait until you need a job. The best people in your network are loose connections and friends of friends who don't have preconceived ideas about you.
On a personal note, what hobbies do you have/enjoy outside of work?
As an avid knitter, I continually try new and complex patterns and skills. My math skills come in handy for changing pattern sizes and creating personal pattern variations.
Through Ravelry, I've connected with and met people IRL around the world. As a marketer, I've watched this boot-strapped social media platform transform craft publishing. While allowing members to share their work publicly, Ravelry provides a publishing platform where top designers can earn 6 figure incomes.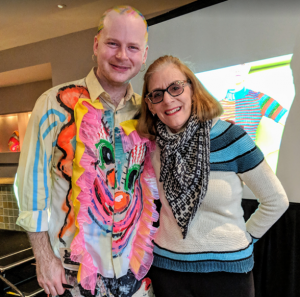 Photo of Stephen West (Knitwear designer who has a store in Amsterdam) and Heidi Cohen (wearing her version of Stephen West's Mesa Sweater) Vogue Knitting Live NYC 2019.