UMSL Celebrates Hispanic Heritage Month
By Maya Harter and Katie Basler
Hispanic Heritage Month is a recognition and celebration of the histories, contributions, cultures, and influence of Latinx people in America that occurs annually from September 15th to October 15th. UMSL's LGBTQ+ and Diversity Initiatives partner with various other departments and student organizations to put on events throughout this month.
UMSL's Hispanic Latino Association was started in 1988 to help raise awareness about the Hispanic community and increase cultural understanding on campus and in the St. Louis region. Through activities that range from BBQs, salsa nights, and lectures the organization takes pride in promoting and helping create a space not just for the Latinx community, but for everyone who wants to join. And yeah, it is a pretty fun group of people too! This organization is currently inactive; however, if you are interested in joining, you may still request to do so by contacting mswells@umsl.edu.
Upcoming Events:
St. Louis Hispanic Workplace Panel 9/29 | 1-2PM | Zoom
A panel discussion on zoom to learn about diversity initiatives and hiring trends in the St. Louis metro area. Students will have the opportunity directly from panelists Lusnail Rondόn Haberberger (Founder of LUZCO), Esmeralda Aharon (Program Director of Staff and Community Engagement for the Office of Diversity, Equity, and Inclusion for the Saint Louis University School of Medicine) and Sal Valadez (District Council as Representative for Diversity, Outreach & Marketing for their Diversity Initiative for LiUNA). They will be discussing what they believe a new intern or college graduate brings to their workplace, diversity and inclusion initiatives, and how to respond to interview questions regarding diversity and inclusion.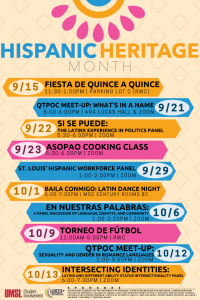 Baila Conmigo | 10/1 | 6-7:30PM | MSC Century Rooms BC
Co-sponsored by the College of Business Administration, Baila Conmigo is Latin Dance Night where instructors will teach dances from the hispanic culture.
En nuestras palabras | 10/6 | 1-2PM | Zoom
A panel discussion of language, identity, and community.
Torneo de fútbol | 10/9 | 11AM-5PM | RWC
A soccer tournament.
QTPOC Meet-up | 10/12 | 2-2:30PM | Zoom
A discussion of Sexuality and Gender in Romance Languages.
Intersecting Identities | 10/13 | 6-7:30PM | Zoom
A panel discussion of Lantinx and different ability status intersectionality.