Remembering the top UMSL Daily stories of 2021
Picking your favorite foods, books, activities – anything – that's tough.
Accordingly, every year, when the staff of UMSL Daily sits down to pick its favorite stories of the year – that's near impossible.
We examine analytics, comb through the archives, ponder the events of the past 12 months and ask for the opinions of our Marketing and Communications colleagues, pulling out a not-insignificant amount of hair in the process. Yet it's still hard to narrow down to what's truly top, best, favorite or any other synonyms.
The difficulty comes from the quality of our subject matter: the University of Missouri–St. Louis people, initiatives and programs that fill our virtual pages. We know that no matter what articles we highlight, there are dozens, nay hundreds, of others that could convincingly take their places.
So, with that caveat in mind, we invite you to read on for the "top" stories of 2021 and the tales of UMSL people they contain.
January
Joan Phillips named new dean of UMSL's College of Business Administration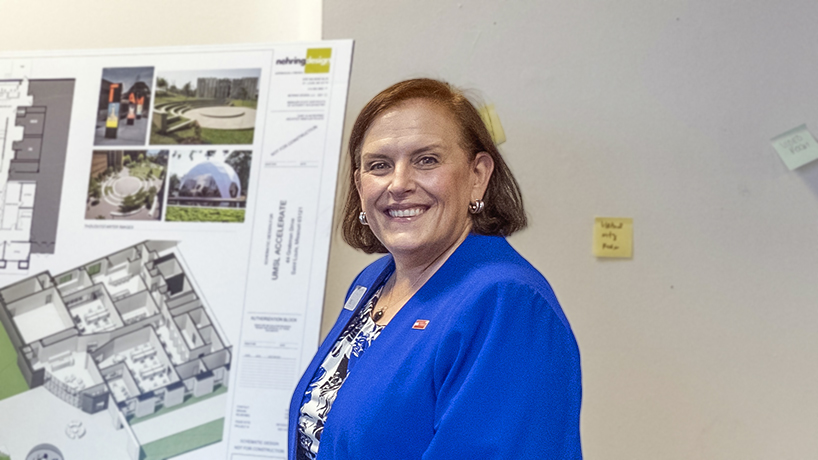 The College of Business announced that it had tapped Joan Philips as its next leader in early January. She had been serving as the dean of the Andreas School of Business at Barry University in Miami since 2018 and brought nearly 25 years of experience working in higher education with her to UMSL.
She is a widely published marketing scholar with expertise in research methods, consumer behavior and political marketing.
"Universities, and business schools in particular, are best when they're aligned with the needs of and serving society," she said. "You look at where the jobs for this region are, and they should be the areas that we specialize in while still giving students a broad-based education. We want to provide a strong foundation in all areas but specialty training in the areas of business that are emerging and will continue to serve the region."
Read more
More top reads from January:
February
UMSL student nurses begin administering vaccines across greater St. Louis area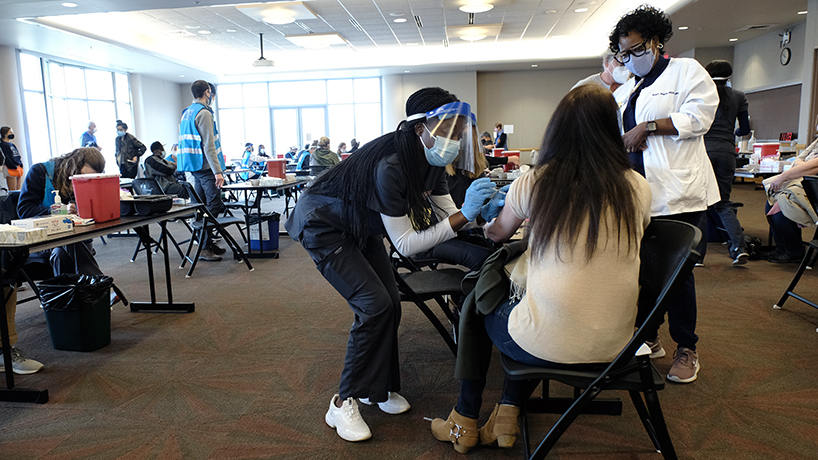 College of Nursing BSN students began administering COVID-19 vaccinations at sites around the greater St. Louis area on Feb. 1. Working in groups of eight, the students volunteered under the supervision of nursing faculty members with BJC HealthCare Christian Hospital, SSM Health DePaul Hospital – St. Louis and the St. Louis County Department of Public Health.
By the end of the semester, the student vaccinators had administrated about 25,000 shots.
"I probably was nervous up until I had the first person come to my station," student Janssen Blackmon said. "I remember talking to them and how excited they were that this vaccine was here. I believe they were the first person in their family as well to get it.
"It put me in the moment. I'm like, 'This is huge. We're here. Now you're administering this to this person, something that's huge and life changing for them.' Then it was like, 'Now I'm just excited.'"
Read more
More top reads from February:
March
Mrs. Missouri America and UMSL graduate Wauneen Rucker fixes her crown to vie for a national title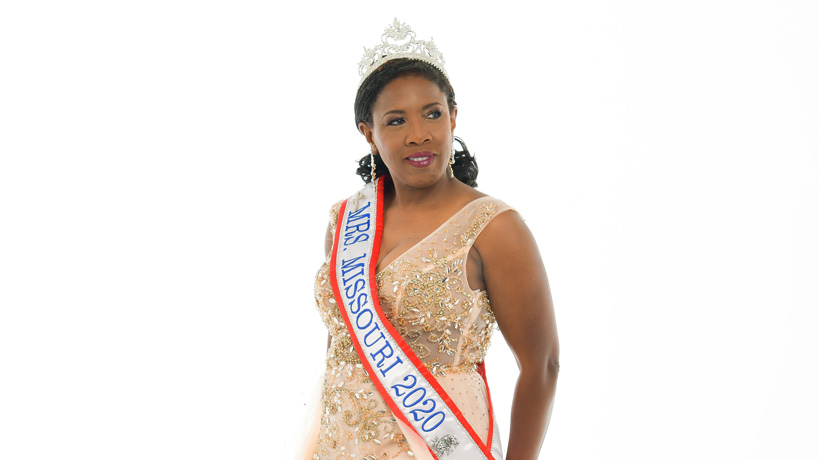 Alumna Wauneen Rucker was named Mrs. Missouri America 2020 and competed in the Mrs. America pageant. Rucker, who earned her bachelor's degree in criminology and criminal justice from UMSL in 1996, has been competing in beauty pageants since she was 14.
She said that no matter the outcome, competing in the Mrs. America pageant is just another page in her playbook.
"My grandmother used to tell us that we all have a book of life that is written before we even know who we are," she said. "In that book, there is nothing that can change or alter because that book is written for you. The only thing that changes is how long it takes to turn the page. To learn the lesson we need to learn in life and then move forward."
Read more
 More top reads from March:
April
Chancellor Kristin Sobolik unveils 'Rise Up for St. Louis' initiative aimed at increasing inclusive prosperity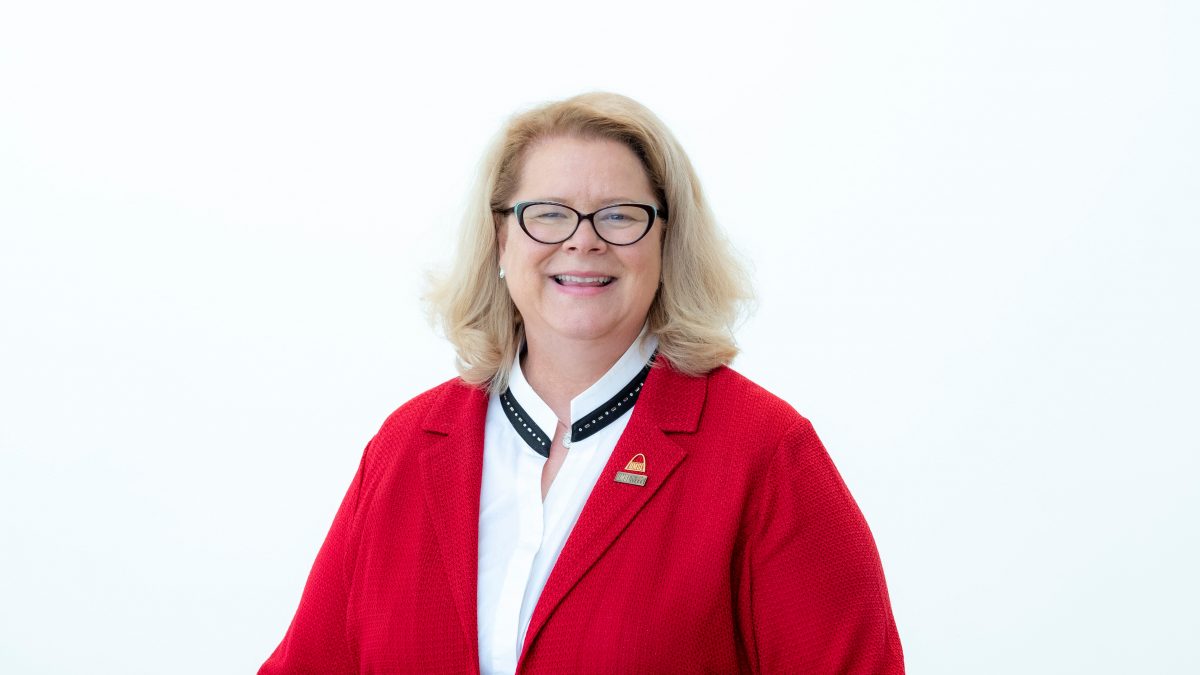 Kristin Sobolik was inaugurated as the eighth chancellor in UMSL history on April 30 after being appointed to the position the previous April.
She announced a new initiative and direction for the university, called "Rise Up for St. Louis." It is focused on elevating UMSL's partnerships to help drive the region forward while modeling and embracing inclusive prosperity. The university also aims to work with partners to eliminate barriers in St. Louis that for too long have inhibited change.
"My goal is to establish UMSL as the top urban, metropolitan research university in the nation," Sobolik said during the virtual event attended by hundreds of faculty, staff, students, alumni and supporters. "While doing so, we will further strengthen and deepen the university's roots and impact here in St. Louis."
Read more
More top reads from April:
May
Mercantile Library celebrates 175 years with an exhibition honoring its place as the oldest library west of the Mississippi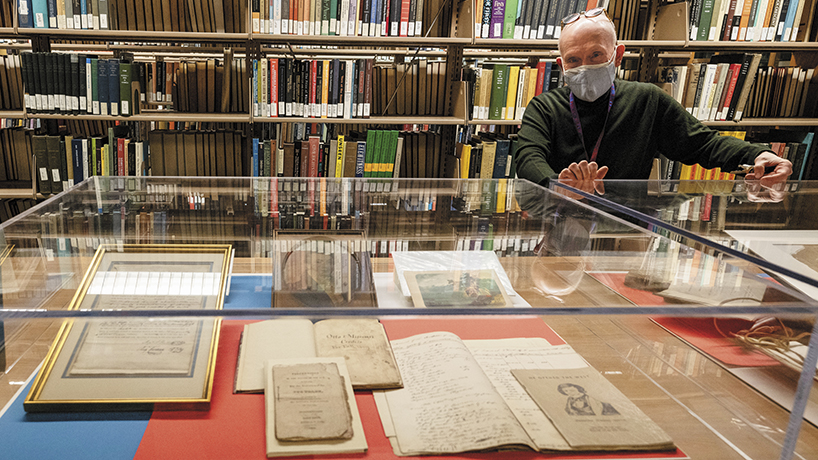 The St. Louis Mercantile Library kicked off a year of celebration of its 175th anniversary with its spring's exhibition, "A Nation, A City, & Its First Library: Americana, as a Way of Life at the St. Louis Mercantile Library for 175 Years."
The Mercantile Library staff envision the exhibition, its accompanying book and the year's worth of events surrounding it as a celebration of the longest-tenured continuously running library west of the Mississippi River and its place as a St. Louis institution.
"The library has always been a collection of great depth and breadth," Executive Director John Neal Hoover said. "It's one of the few that does that. A lot of times a library will collect deeply in one or two subjects, or they'll collect broadly. We do both. If it's recognized what a special circumstance that is through this exhibition, that's a wonderful achievement."
Read more
More top reads from May:
June
Education and English alumna Sandy Olive wins big on 'Jeopardy!'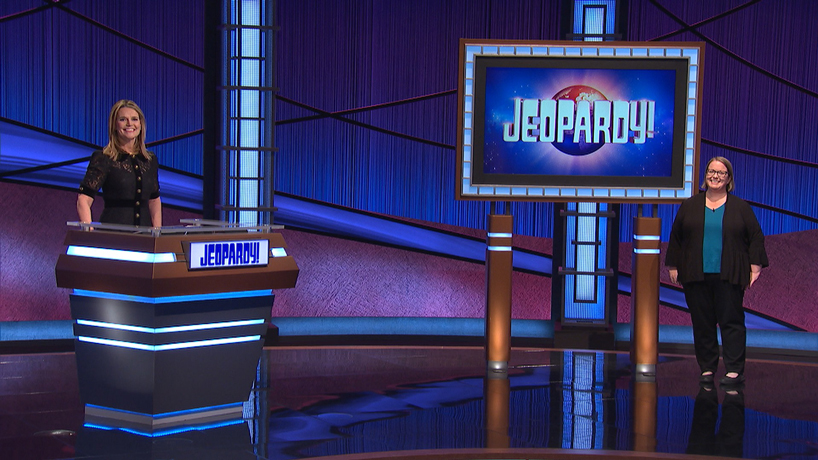 Sandy Olive, an English teacher at Lindbergh High School and graduate of the College of Education and College of Arts and Sciences, appeared on three episodes of "Jeopardy!" During Olive's run, she was a two-day champion and won more than $50,000 in prize money.
Though her run ended after missing a Final Jeopardy question about Mark Twain, Olive couldn't have asked for a better experience.
"I won that first game, and I just thought, 'How can I ask for more?'" she said. "My goal was to have fun and just enjoy being there. It would be so greedy to ask for more.
Read more
More top reads from June:
July
Education alumnus William Pryor awarded Fulbright English Teaching Assistantship in Taiwan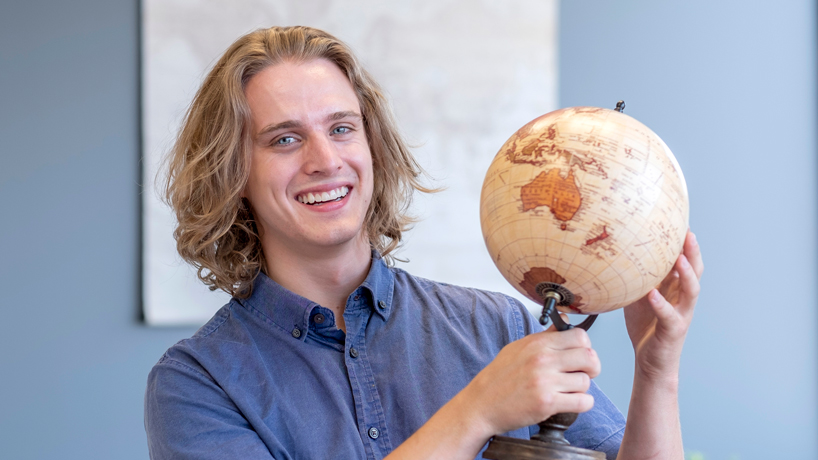 William Pryor, MEd in elementary education, is serving as an English teaching assistant for a year in the capital city of Taipei as part of a Fulbright English Teaching Assistantship in Taiwan.
The selective assistantship is part of the broader Fulbright Scholarship U.S. Student Program, which provides grants to study, research or teach outside of the United States. The program aims to facilitate cultural exchange through interactions with locals in the classroom, field and home.
"No matter where you're from, if you make that effort to connect with people, things that you thought might be impossible could definitely be possible if you take time to put yourself out there," he said. "I really want to try to be a support for people. I know how much support has been given to me to get where I am. No way could I have done it by myself."
Read more
More top reads from July:
August
Love of music brings Mark Briguglio back to college, almost 50 years after he started, to earn degree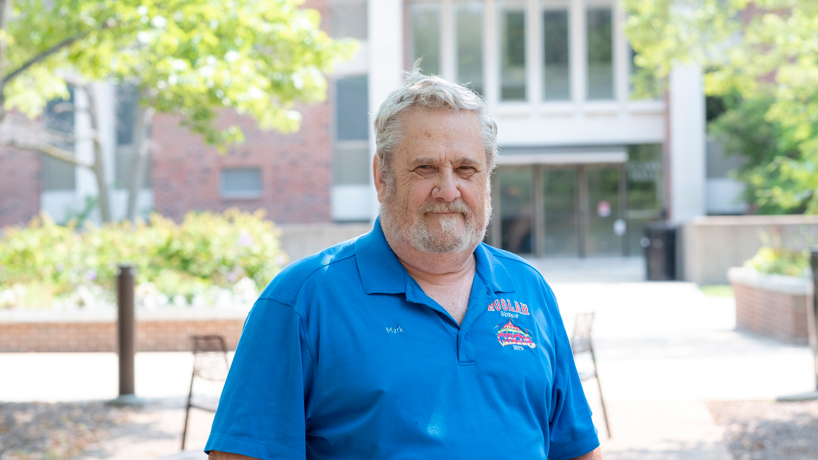 Mark Briguglio's voice has been capturing the attention of and delighting audiences for more than 50 years, and in 1972, it won him a scholarship to study at the St. Louis Institute of Music, which at the time, was housed at Maryville University. Back then, he had dreams of becoming a professional singer, as two of his sisters both did, only life got in the way.
Almost five decades later, Briguglio was back pursuing the college degree he never really gave up wanting, and he went on to graduate in December.
"I've always wanted to go back to school," he said. "I thought I would go back here and become a great singer."
Read more 
More top reads from August
September
UMSL remains on the rise in latest US News 'Best Colleges' rankings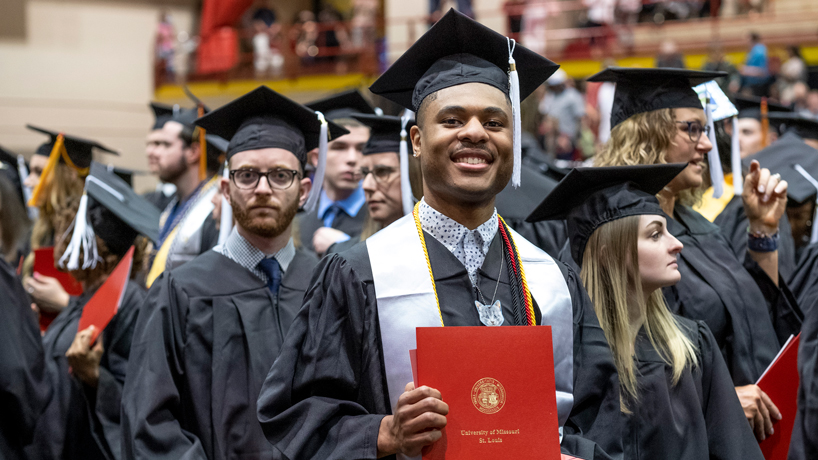 UMSL was once again regarded as a Tier 1 national university, moving up eight places to No. 118 among public universities in the 2022 rankings unveiled on Monday. UMSL climbed 19 places in the overall rankings, bringing its two-year rise to 42 places – the sixth-highest improvement in the nation during that span.
It also received its highest-ever total score in the 17 measures U.S. News uses to inform the rankings.
"Our faculty and staff strive to ensure that our students receive a high quality and affordable education, and I'm pleased to see their efforts validated by these latest rankings," Chancellor Kristin Sobolik said. "We measure our own success through the outcomes of our students, over 3,000 of whom earned their degrees this past year as we continue to increase their retention and graduation rates. Our focus is on the success of our students, and our increasing positive results reflect that."
Read more
More top reads from September
October
UMSL playing leading role in St. Louis Anchor Action Network with goal of building inclusive prosperity
The St. Louis Anchor Action Network is bringing together institutions, businesses, community leaders, and other stakeholders to address racial, economic, and spatial inequities in the St. Louis region through focused efforts to increase employment, income, health and wealth building.
The idea for the network grew out of conversations among local institutional leaders that began in December 2019 and intensified in 2020 in the midst of growing inequities due to the COVID-19 pandemic and the continued national reckoning with racial injustice.
"We are committed to building inclusive prosperity throughout St. Louis, and we are excited to continue to partner with other anchor institutions to work to eliminate the racial and economic inequality that has persisted for too long in our region," Chancellor Kristin Sobolik said.
Read more
More top reads from October
November
Leader of the St. Louis Avant-Garde: Artist Brock Seals' background fuels his ascent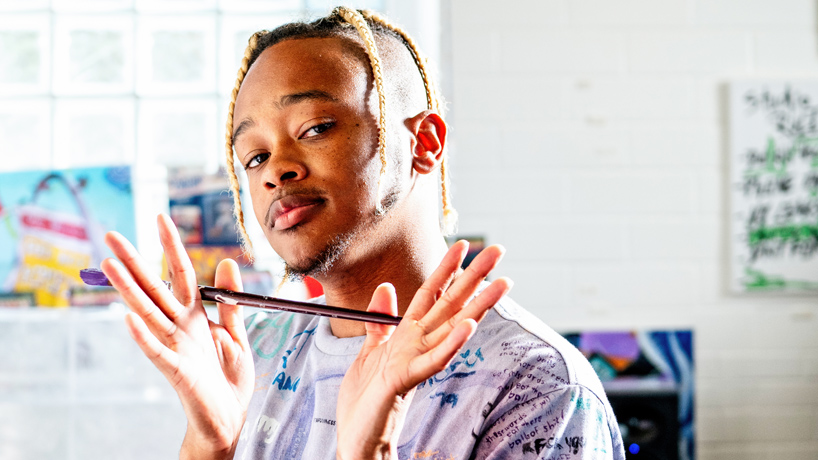 Brock Seals, a 2019 Department of Art and Design graduate, is no longer working a day job but instead supporting himself painting canvases, performing hip-hop and fashioning custom cleats for sports stars, such as Cardinals outfielder Harrison Bader.
Both book smart and street smart, Seals draws on a wide range of influences, from pop culture to ancient philosophy. Today wearing thin blond braids, a vintage KISS T-shirt, camo pants and sneakers running the color gamut, he's a walking visual statement who pushes boundaries. Having painted "REPARATIONS" in huge letters on the street by City Hall – as well as created roller skates that look like ice cream cones – his art is both political and commercially viable.
"It involves a lot of reflecting on who I am, being from St. Louis and being Black, and my culture," he said.
Read more
More top reads from November
December
Working for an education: UMSL students' tales of perseverance, support, sacrifice and success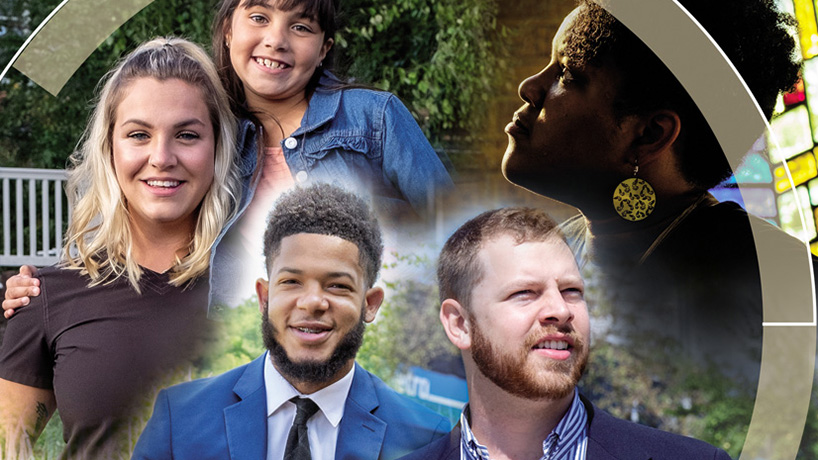 Education should be for anyone who wants it – and that's how it is at UMSL.
As the only public research university within the St. Louis metropolitan area, UMSL serves all willing to work for their education, while providing the support and services necessary to make that happen. UMSL students often balance multiple responsibilities – as parents, caretakers, employees, athletes, reservists – while striving for a college degree to kickstart careers and better lives, families and communities.
Regardless of whether they come straight from high school or transfer in, UMSL students balance seemingly impossible loads on their paths to earn degrees.
Read more for four of their stories
More top reads from December
Thanks for reading along this year! Have a story idea for UMSL Daily? Email us at umslnews@umsl.edu.

Short URL: https://blogs.umsl.edu/news/?p=91835